5573
An Important Restoration Period
Silver Filigree and Enamel Trinket Box
In memory of King Charles I
English, Circa 1665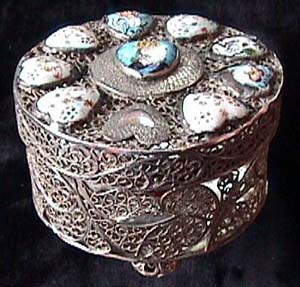 This rare piece has nine English enamel hearts inset on the lid of the box (shown below) and one on the underside of the lid. These are probably emblematic of King Charles' descendants and of his own death respectively. The filigree may have been worked by Italian craftsmen hired by English smiths when silver for solid items was in short supply. However, some experts feel that the filigree is typical English provincial work which is more naïve than the Italian work of this period. (The heart shape directly below the central enamel of King Charles is not in fact an enamel but silver and may mean to symbolize a still-born child.)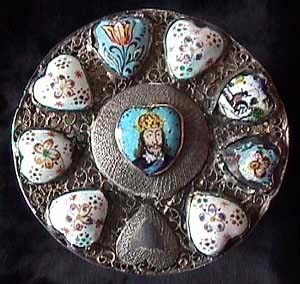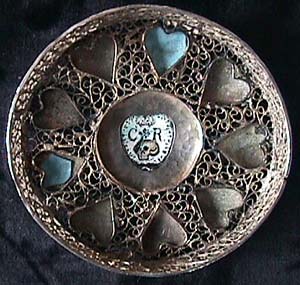 The macabre enamel on the underside of the lid of the trinket box is a "momento mori", celebrating the death of Charles, who was beheaded in 1649.
The box was made during the reign of his son, Charles II (1660 to 1685), to commemorate the life and death of his father. (It is remarkable that the feet on the body of the trinket box are original considering it is over three hundred years old.)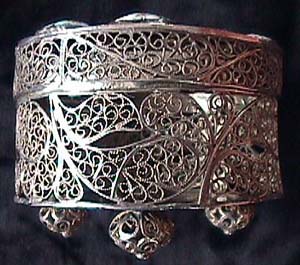 English, Circa 1665, unmarked. (3 inches diameter, 1 ¾ inches high)
Ex-Collection: James Aspin, South Africa
Illustrated (three pictures): "Starting to Collect SILVER" by John Luddington,
page 41, ANTIQUE COLLECTORS' CLUB.



Call, write, fax, or e-mail us for detailed information about this item.
Please make a note of its stock number.